SUNDAY WORSHIP
Our worship service begins at 10:30 a.m. on Sundays.
Come casual or in your Sunday best. You will be welcomed at the door and in the pews. We are a congregation and denomination of radical hospitality and extravagant welcome. Our hope is that you will come as a stranger and leave as a friend.
First Congregational Church United Church of Christ has two kinds of services:
We offer a Traditional Service featuring scripture, prayers, spoken and sung liturgy, hymns and the voices of our choir mixed together to make our worship experience formal and informal, personal, reflective, communal, uplifting, inclusive and relevant to today's world, recognizing that the Holy Spirit reaches people in different ways. In addition to a sermon, the service includes an educational moment called "S'more Time" geared toward all ages that highlights bible passages and other interesting information.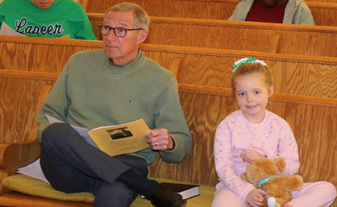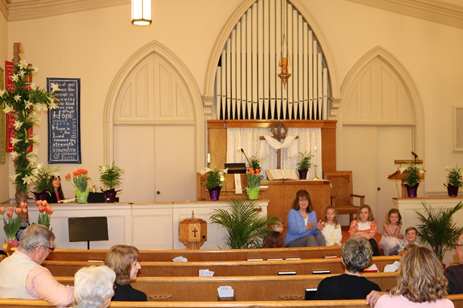 On the second and fourth Sunday each month we offer a Pathfinders Service in place of our traditional worship experience. Designed to be informal and interactive, this service features traditional and contemporary songs, videos, prayer and shared reflections on scripture.
Holy Communion is celebrated on the first Sunday of each month and on special worship days. We practice an open table. Everyone is welcome to the Lord's table.
Children are welcome! We recognize that worship is more meaningful when it includes all ages. At the main entrance to our sanctuary we have chairs and blankets for parents with infants and crayons and paper in the pews for children. We have a ramp for wheelchairs leading to the sanctuary and social hall.
After the service you will be welcomed again in our social hall featuring fellowship among your friends and neighbors as well as food and refreshments.
Whatever your family make-up, you are welcome to worship with us. Come infrequently or regularly. We hope you will consider being part of our faith community that focuses on loving our neighbor as ourselves inside and outside the walls of our church. Let us come together in faith and with our joys, pain, doubts and hopes to worship God and uplift each other. No matter who you are, or where you are on life's journey, you are welcome here. Jesus never turned anyone away, and neither do we.